Mac-Compatible Poker Sites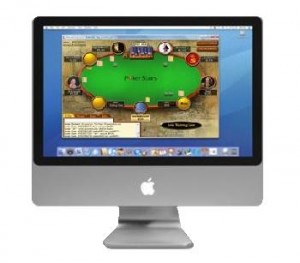 Mac Poker sites are not exactly a dime-a-dozen in today's competitive poker software industry. With each provider trying to do their best to keep up with our Web 2.0 society, it can be easy to see why a lot of online poker rooms still don't have their platforms compliant with both PC's and Mac's.
In recent years though, more and more poker sites have hopped on the Mac craze and began to truly fine-tune their interface to fit the needs of a rising demographic of people - and moreover, poker players - who now own Macintosh computers.
As you already saw on the homepage of the site, the staff at MacPokerSites.net broke down a list of the Top 5 gambling sites that are compatible with your Macintosh computer or notebook. However, this particular section will go a little bit further and include a listing of all of the best Mac Poker rooms that are available today, as well as links to our official reviews of each and applicable deposit bonuses you can earn by signing up and playing for real money.
Best Mac Poker Sites
Difference Between "Instant" and "Flash" Download Poker Sites
As you can see from the above table, there are 2 different types of Mac Poker Downloads:
Instant and Flash (aka No-Download)
Poker sites like Full Tilt and PokerStars have instant download versions of their software that allow their player to easily open it up whenever the please simply by clicking an icon. Since it's completely separate from any web browser, the separate poker software doesn't bog down the computer that much and runs quite smoothly. It also comes in handy when you want to multi-table.

However, sites like Party Poker and Pitbull Poker offer a Flash version of their software that is available when you open up your Safari web browser on your Mac (or any other compliant browser like Internet Explorer or FireFox) and click the "Play Now" buttons located on their respective websites. Flash poker has gained a bit of a following as of late because it doesn't take away your computer's memory and depending on where you work, allows you to even play right from your office! You just visit the site, login directly from your browser, and then you're ready to play poker.

The transitions that developers have had to experience when perfecting the software for the Mac poker client itself have paid off nicely in the long-run - especially in terms of speed, graphics, and reliability. In the future, you can surely bet that many poker players are already hoping that even more sites begin to cross over their software into the realm of Mac's. Sure, there will have to be a lot more rigorous testing done and a lot of dedicated man hours, but if online poker rooms expect to compete with the ones who have had their Mac software running since 2006, then they should start investing in developers NOW.